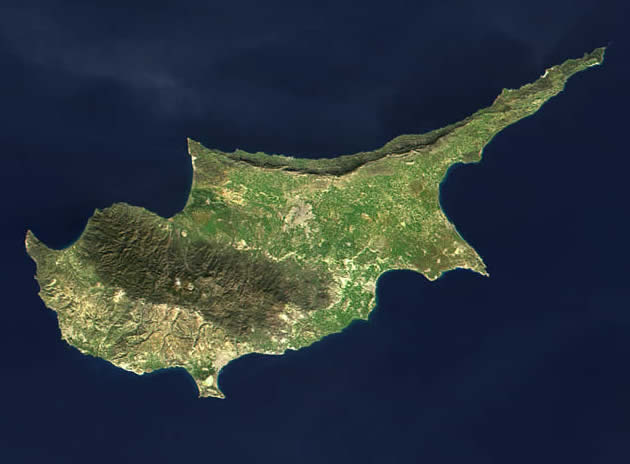 According to mythology Cyprus is the birthplace of the goddess of love and beauty, Aphrodite. The island is both an ancient land, with an eleven thousand year-old history and civilization as well as a young independent Republic since 1960. The west coast town of Paphos focuses around an attractive little harbour whose picturesque open air fish restaurants line a quayside of bright fishing boats and pleasure craft. With a population of just 28.000 Paphos nestles in the lee of the Western Troodos Mountains which add another dimension to this area of scenic beauty. Paphos has an air of holiday charm combined with history, and olden-day elegance is lent to the town by its classical style buildings in the upper part of town which leads to the shopping area. The lower part of the town - known as Kato Paphos - has a life of its own, down near the sea, home of the harbour, the fish tavernas, souvenir shops and several beautiful hotels with important archaeological sites around them. Paphos is entwined with Greek mythology, and the legendary birth of Afrodite . These legends brought her shores fame and worshippers who came to follow the cult of the Goddess. Landmarks associated with Afrodite are the chunky, rugged rocks of her beautiful birthshore known as the Afrodite Rocks or "Petra tou Romiou" , the evocative sanctuary of Afrodite at Kouklia Village, one-time shrine and scene of pagan festivals for thousands, the Baths of Afrodite at Polis , supposed source of fertility and the Fountain of Love , or Fontana Amorosa , a few miles further into the Akamas Peninsula. Even the town's name is linked to the Goddess, for Paphos was the name of the mythological daughter of Venus and Pygmalion . Paphos became the capital of Cyprus under the successors of Alexander the Great , the Ptolemies, and in those days its harbour was a busy, thriving port. It continued as the island's first city for more than seven centuries, retaining its importance under Roman rule. Its most famous Governor Sergius Paulus , was converted to Christianity by St Paul in 45 AD. But Paphos history dates back a great deal further. In fact the whole area abounds in historical and archaeological treasures .
Travelling to Cyprus
In Cyprus there are two International airports: Larnaca and Paphos . Most travellers reach Cyprus through the Larnaca International Airport which is the largest of the two.
Larnaca International Airport (LCA/LCLK)
The LCA airport is the main one, and it served by a great number of major flight companies (currently, Aeroflot Russian Airlines, Aeroflot-Don, Aerosvit Airlines, Air Berlin, Air Malta, Air Moldova, Air Slovakia, Alitalia, Armenian Airlines, Austrian Airlines, Balkan, Belavia, British Airways, Condor Flugdienst, Cyprus Airways, Czech Airlines, Eastern Ukranian Airlines, Egyptair, El Al Israel Airlines, Emirates, Finnair, Gulf Air, IRS Aero, Iran Air, JAT, KLM-Royal Dutch Airlines, Kuwait Airways, L.T.U International Airways, LOT-Polish Airlines, Libyan Arab Airlines, Lufthansa, MALEV, MEA, Olympic Airways, Palestinian Airlines, Royal Jordanian, SAS, Samara Airlines, Syrian Arab Airlines) . In particular, it offers convenient connections to Frankfurt, Amsterdam, London, Rome, Brussels, Vienna, and Athens.
Paphos International Airport (PFO/LCPH)
The PFO airport is the closest one, and it served by Austrian Airlines, British Airways, Cyprus Airways, El Al Israel Airlines, Finnair, IRS Aero, KLM-Royal Dutch Airlines, Transaero Airlines.
Other Information
Currency
As of January 1st, 2008, Cyprus adopted the EURO currency and all transactions are made in Euros.
Visas
Please note that participants from the USA, Australia, Canada and Western Europe do not need a passport visa to travel to Cyprus. Participants from Syria, Jordan, the Arab Gulf (Aman, Quatar, Bahrain, Kuwait, etc) and countries of the former Soviet Union can obtain a visa upon arrival at Larnaca Airport after presenting a letter of invitation (to be issued by the conference organizing committee), a valid passport, a return ticket to and from Cyprus and information on local accommodation. If a visa is required for your country, then please visit the URL http://www.mfa.gov.cy/mfa/mfa.nsf/EmbassiesList in order to find out your nearest Cypriot consulate or embassy.
Voltage
Electricity in Cyprus is 240V.
Credit Cards
All major credit cards are accepted widely, but not everywhere. If in doubt, ask in advance.
Banking Hours
Banks are open on week days between 8:30 and 13:00. On Mondays they are also open 15:15 - 16:45.